WTI Crude Oil: oil prices are consolidating
Current trend
Oil prices rose slightly on Friday, but returned to negative dynamics closer to the end of the afternoon session. Quotes are supported by rising tensions in the Middle East after an attack on key oil production facilities in Saudi Arabia the week before last. The Kingdom announced a military operation north of the city of Hodeidah, while Donald Trump approved sending of troops to Saudi Arabia to strengthen defense capabilities. In addition, it became known that Riyadh is actively importing oil production equipment from the United States, so that by the end of the month most of the stopped facilities can be restored. Baker Hughes report released last Friday indicated a sharp decrease in the number of active oil rigs in the US from 733 to 719 rigs, which also provided significant support for quotes.
Support and resistance
Bollinger Bands in D1 chart show stable growth. The price range is narrowing, reflecting the emergence of ambiguous dynamics of trading in the short term. MACD is growing, keeping a weak buy signal (located above the signal line). Stochastic is going down, approaching the level of "20", which is the formal border of the oversold instrument. It is necessary to wait until the situation becomes clear and updated trading signals from technical indicators appear in order to open new market positions.
Resistance levels: 60.00, 61.00, 62.49, 63.33.
Support levels: 58.42, 57.64, 55.89, 54.73.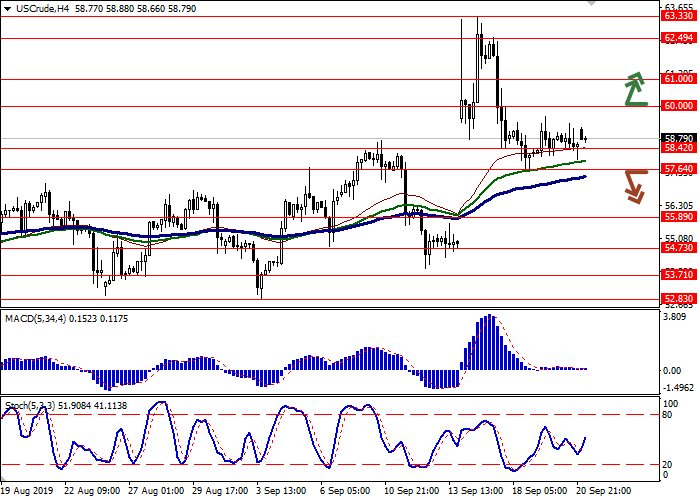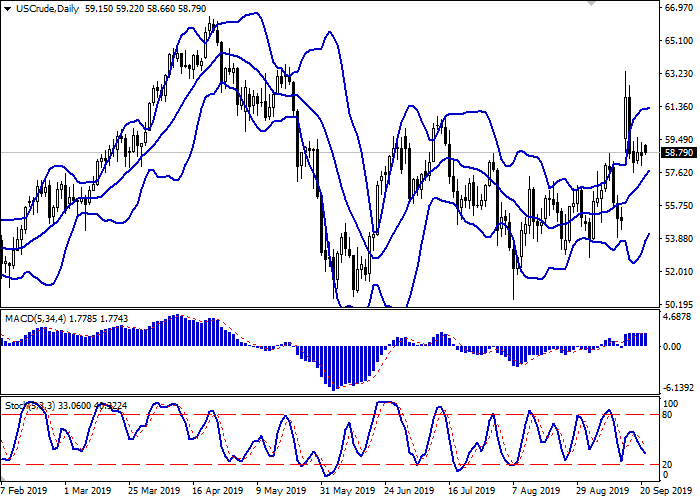 Trading tips
To open long positions, one can rely on the breakout of 60.00. Take profit — 63.33. Stop loss — 58.42.
The return of "bearish" trend with the breakdown of 57.64 may become a signal for new sales with the target at 54.73 or 53.71. Stop-loss — 59.50.
Implementation time: 2-3 days.
Scenario
Timeframe

Intraday

Recommendation

BUY STOP

Entry Point

60.05

Take Profit

63.33

Stop Loss

58.42

Key Levels

54.73, 55.89, 57.64, 58.42, 60.00, 61.00, 62.49, 63.33
Alternative scenario
Timeframe

Intraday

Recommendation

SELL STOP

Entry Point

57.60

Take Profit

54.73, 53.71

Stop Loss

59.50

Key Levels

54.73, 55.89, 57.64, 58.42, 60.00, 61.00, 62.49, 63.33