XAU/USD: general analysis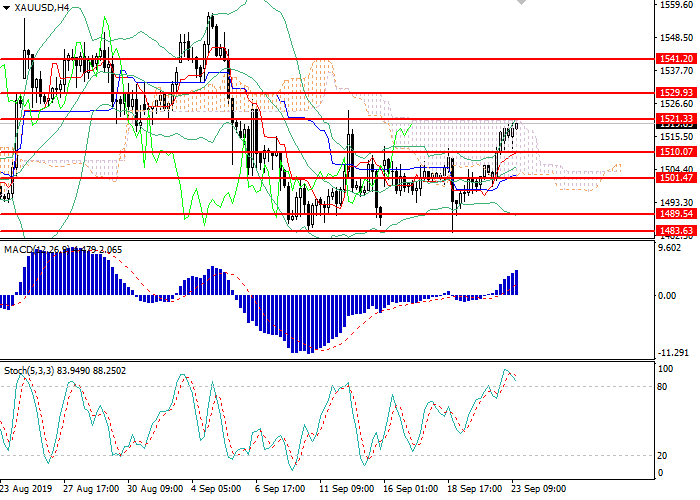 Current trend
Last Friday, gold moderately strengthened after Chinese officials suspended their visit to the US without visiting a number of important sites, which was unexpected and led to a fall in the American companies' shares. The Fed key rate decrease by 25 basis points and the mixed FOMC voting created uncertainty regarding monetary policy parameters by the end of this year. The head of the regulator Jerome Powell repeated that the rate cut is insurance against risks in the US economy.
In the long run, the price is supported by Brexit difficulties. Last week, the EU said that the UK was catalyzing the crisis. As the parties cannot resolve the Irish border issue promptly, traders prefer shelter assets. Furthermore, the intensification of the Middle East crisis supports gold. Currently, US authorities increase the contingent of troops in the region. In general, there are enough fundamental conditions for further XAU strengthening.
Today at 15:45 (GMT+2), US PMI data will be released. Also, a significant impact on the market will have statements by Fed officials, as well as ECB head Mario Draghi.
Support and resistance
On a 4-hour chart, the instrument strengthens along the Bollinger bands' upper border. The indicator reverses upwards, the price range expanded significantly, indicating growth. MACD is in the positive zone, keeping a buy signal. Stochastic is preparing to leave the overbought zone; a strong sell signal can be formed within 1–2 days.
Support levels: 1508.45, 1501.47, 1489.54, 1483.63.
Resistance levels: 1221.33, 1288.09, 1297.17, 1304.60.
Trading tips
Long positions can be opened from the current level with the target at 1540.00 and stop loss 1508.00.
Short positions can be opened below 1508.00 with the targets at 1493.25, 1485.00 and stop loss 1517.25.
Implementation period: 2–3 days.
Scenario
Timeframe

Intraday

Recommendation

BUY

Entry Point

1520.17

Take Profit

1540.00

Stop Loss

1508.00

Key Levels

1221.33, 1288.09, 1297.17, 1304.60, 1483.63, 1489.54, 1501.47, 1508.45,
Alternative scenario
Timeframe

Intraday

Recommendation

SELL STOP

Entry Point

1507.95

Take Profit

1493.25, 1485.00

Stop Loss

1517.25

Key Levels

1221.33, 1288.09, 1297.17, 1304.60, 1483.63, 1489.54, 1501.47, 1508.45,